It's still in beta but
Fitocracy.com
is about as 'beta' as Minecraft was before it launched officially. This means that is fun and it works well. Go to the site now and
request an invite
. Fitocracy is basically the Web's totally serious answer to this XKCD comic from a while back.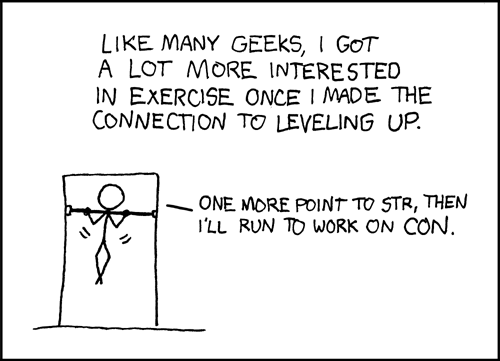 This is now a reality! Woop!


The system Fitocracy uses is just as fiendishly compulsive and addictive as XBLA's Gamerscore or PSN's Trophy systems and I'm not even exaggerating when I say that this site has the 'nerdy athlete' in mind. Here's some proof for ya.
Tell me this doesn't sound like a LOT of fun!



See! Look at that! Quests, Achievements, Pokemon references and accolades (in the form of Titles) are there for the taking for various quests aimed at a satisfying range of exercises, levels and specialist sports such as Mountaineering and Climbing. There was even a quest for dancing for 2 hours on NYE and the site is very easy to navigate.




I'm already hooked and as a fully signed up member I am allowed to invite people myself so if you want that to happen, please get in touch at jakmarshall@rocketmail.com and I'll hook you up.